Currently Reading - 7 July 2014
I am still

currently reading

these books from the last post:
Harry Potter and the Sorceror's Stone
I

abandoned

these books to read again some other time from the last post:
None, I have not abandoned any books :)
I have

finished

these books from the last post:
Sea of Shadows by Kelley Armstrong

Popular: A Memoir by Maya Van Wagenen
Now added to my Currently Reading pile are: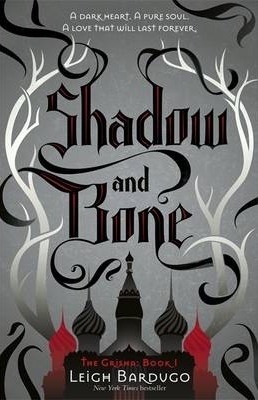 Shadow and Bone by Leigh Bardugo
The Shadow Fold, a swathe of impenetrable darkness, crawling with monsters that feast on human flesh, is slowly destroying the once-great nation of Ravka. Alina, a pale, lonely orphan, discovers a unique power that thrusts her into the lavish world of the kingdom's magical elite - the Grisha. Could she be the key to unravelling the dark fabric of the Shadow Fold and setting Ravka free? The Darkling, a creature of seductive charm and terrifying power, leader of the Grisha. If Alina is to fulfil her destiny, she must discover how to unlock her gift and face up to her dangerous attraction to him. But what of Mal, Alina's childhood best friend? As Alina contemplates her dazzling new future, why can't she ever quite forget him?
This is the first time I'll be reading a book by Leigh Bardugo and I can't wait to see what it's like.
Prodigy by Marie Lu
(Legend #2)
Injured and on the run, it has been seven days since June and Day barely escaped Los Angeles and the Republic with their lives. Day is believed dead having lost his own brother to an execution squad who thought they were assassinating him. June is now the Republic's most wanted traitor. Desperate for help, they turn to the Patriots - a vigilante rebel group sworn to bring down the Republic. But can they trust them or have they unwittingly become pawns in the most terrifying of political games?
I loved Legend and am disgusted with myself that I haven't read Prodigy sooner but alas, at least I'm reading it now.
Throne of Glass by Sarah J. Mass
In a land without magic, where the king rules with an iron hand, an assassin is summoned to the castle. She comes not to kill the king, but to win her freedom. If she defeats twenty-three killers, thieves, and warriors in a competition, she is released from prison to serve as the king's champion. Her name is Celaena Sardothien.
The Crown Prince will provoke her. The Captain of the Guard will protect her. But something evil dwells in the castle of glass--and it's there to kill. When her competitors start dying one by one, Celaena's fight for freedom becomes a fight for survival, and a desperate quest to root out the evil before it destroys her world.
I have heard amazing things about this book and can't wait to see does it live up to the hype.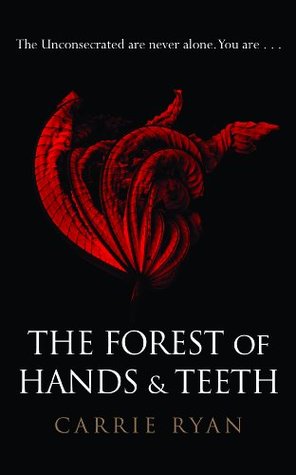 The Forest of Hands and Teeth by Carrie Ryan
(The Forest of Hands and Teeth #1)
In Mary's world there are simple truths. The Sisterhood always knows best. The Guardians will protect and serve. The Unconsecrated will never relent. And you must always mind the fence that surrounds the village; the fence that protects the village from the Forest of Hands and Teeth. But, slowly, Mary's truths are failing her. She's learning things she never wanted to know about the Sisterhood and its secrets, and the Guardians and their power, and about the Unconsecrated and their relentlessness. When the fence is breached and her world is thrown into chaos, she must choose between her village and her future—between the one she loves and the one who loves her. And she must face the truth about the Forest of Hands and Teeth. Could there be life outside a world surrounded in so much death?
Tiger's Curse by Collen Houck
(The Tiger Saga #1)
Would you risk it all to change your destiny? The last thing Kelsey Hayes thought she'd be doing this summer was trying to break a 300-year-old Indian curse. With a mysterious white tiger named Ren. Halfway around the world. But that's exactly what happened. Face-to-face with dark forces, spellbinding magic, and mystical worlds where nothing is what it seems, Kelsey risks everything to piece together an ancient prophecy that could break the curse forever.
I love the aspect of this book, but I've heard mixed reviews so I'll see...
Where She Went by Gayle Forman
(If I Stay #2)
If you had a second chance at first love . . . would you take it?
It's been three years since Adam's love saved Mia after the accident that annihilated life as she knew it . . . and three years since Mia walked out of Adam's life forever.
Now living on opposite coasts, Mia is Julliard's rising star and Adam is LA tabloid fodder, thanks to his new rock star status and celebrity girlfriend. When Adam gets stuck in New York by himself, chance brings the couple together again, for one last night. As they explore the city that has become Mia's home, Adam and Mia revisit the past and open their hearts to the future - and each other.
Told from Adam's point of view in the spare, powerful prose that defined
If I Stay
,
Where She Went
explores the devastation of grief, the promise of new hope, and the flame of rekindled romance.
I loved 'If I Stay' and can't wait to see through Adam's point of view and to find out what happened in the end.
The Lovely Bones by Alice Sebold
This is one where I've seen the movie before reading the book. I loved the movie so bring on the book!!!