Friday Finds #5
This is a meme hosted by MizB at ShouldBeReading :) What you do is post up books that you have discovered from bookstores, friends or the web or whatever way you discovered them. You post the books you've only discovered during the week period.
The Books I Discovered This Week:
This week I discovered 2 books!! One by a new author and the other a continuation to a series I'm reading. Here are the books!!....
Gates of Thread and Stone by Lori M. Lee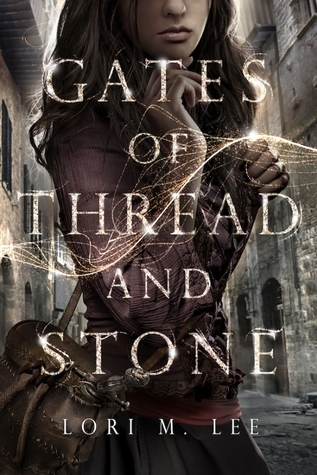 In the Labyrinth, we had a saying: keep silent, keep still, keep safe.
In a city of walls and secrets, where only one man is supposed to possess magic, seventeen-year-old Kai struggles to keep hidden her own secret—she can manipulate the threads of time. When Kai was eight, she was found by Reev on the riverbank, and her "brother" has taken care of her ever since. Kai doesn't know where her ability comes from—or where
she
came from. All that matters is that she and Reev stay together, and maybe one day move out of the freight container they call home, away from the metal walls of the Labyrinth. Kai's only friend is Avan, the shopkeeper's son with the scandalous reputation that both frightens and intrigues her.
Then Reev disappears. When keeping silent and safe means losing him forever, Kai vows to do whatever it takes to find him. She will leave the only home she's ever known and risk getting caught up in a revolution centuries in the making. But to save Reev, Kai must unravel the threads of her past and face shocking truths about her brother, her friendship with Avan, and her unique power.
This book was also mentioned on my Wishlist Wednesday for this week and I found this on Goodreads after someone added it to there to-read list. So I checked it out, had a good feeling about it and now can't wait to read it.
Empire of Night by Kelley Armstrong
Sisters Moria and Ashyn are the Keeper and Seeker of Edgewood. Or at least, they were.
Their village is gone. Their friends have betrayed them. And now, the emperor has sent them on a mission to rescue the children of Edgewood—accompanied by Prince Tyrus and a small band of imperial warriors. But the journey proves more perilous than they could have imagined. With treachery and unrest mounting in the empire, Moria and Ashyn will have to draw on all their influence and power to overcome deadly enemies—not all of them human—and even avert an all-out war.
I found this also on Goodreads after finishing the first book 'Sea of Shadows'. I loved this book and can't wait until this one comes out do I can find out what happens....