Wishlist Wednesday #12
Wishlist Wednesday is hosted by Pen to Paper and it is where you talk about one book which is on your wishlist.
My Wishlist Wednesday book is...
FALLING INTO PLACE BY AMY ZHANG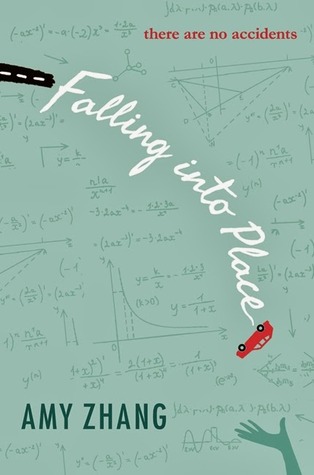 On the day Liz Emerson tries to die, they had reviewed Newton's laws of motion in physics class. Then, after school, she put them into practice by running her Mercedes off the road.
Why? Why did Liz Emerson decide that the world would be better off without her? Why did she give up? Vividly told by an unexpected and surprising narrator, this heartbreaking and nonlinear novel pieces together the short and devastating life of Meridian High's most popular junior girl. Mass, acceleration, momentum, force—Liz didn't understand it in physics, and even as her Mercedes hurtles toward the tree, she doesn't understand it now. How do we impact one another? How do our actions reverberate? What does it mean to be a friend? To love someone? To be a daughter? Or a mother? Is life truly more than cause and effect? Amy Zhang's haunting and universal story will appeal to fans of Lauren Oliver, Gayle Forman, and Jay Asher
I added this book to my wishlist on September 4 2014 after seeing it in my local bookshop. It was only a flitting glance so then I checked it out online, thought it sounded immensely interesting and then added it to my wishlist.
Why did I add this book to my wishlist?? There's a few reasons really.
1. I have not read many contemporary novels and I want to change that.
2. It seems really sad and is recommended for fans of Jay Asher and Gayle Forman.
3. It's rare to see the mention of science in a novel like this.
So in short, I am intrigued by this novel.
From the blurb, this seems like a novel that would really make you think. The way there are questions already engages me to think about Liz, about life, about our own impact in life, to yourself and to others. I have a really high expectation for this book because of the blurb and hopefully it will live up to it. But I can't possibly know that until I get it.
The cover was what set me to the novel in the first place. It was the cover that drew me into researching it more. There was the background colour that just drew my eye and then all the science equations along with the falling car just and the title arched just hooked me in further and well, that's the end of that. It's a pretty cover!!
I think this is Amy Zhang's debut novel??? I'm not too sure as there are more books listed on Goodreads but I don't think any are out yet so ya. Anyway I haven't read anything from Amy Zhang yet so I don't know her writing style or anything and I can't wait to see what I think of the novel!!
Has anyone read this book yet?? Any thoughts of what you thought without spoilers :P Please let me know!!!