2015 Releases I Can't Wait For!!! January & February
I found this book wheel where there's like suggested books for everyday of 2015 and well I have been scrolling through that list and I have found some amazing 2015 releases!! By the way the list was made by Epic Reads and it's called Epic Reads Presents 365 Days of YA, is anyone else would like to go and take a look :)
Now releases!!!! I am going to even post up the January releases too, be aware that some of these books are the paperback release date and some may have already been released in 2014 but I still have to wait for them because it's all paperbacks that my bookstore stocks sooooo let's get this ball rolling!!!
Children can have a cruel, absolute sense of justice. Children can kill a monster and feel quite proud of themselves. A girl can look at her brother and believe they're destined to be a knight and a bard who battle evil. She can believe she's found the thing she's been made for.
Hazel lives with her brother, Ben, in the strange town of Fairfold where humans and fae exist side by side. The faeries' seemingly harmless magic attracts tourists, but Hazel knows how dangerous they can be, and she knows how to stop them. Or she did, once.
At the center of it all, there is a glass coffin in the woods. It rests right on the ground and in it sleeps a boy with horns on his head and ears as pointed as knives. Hazel and Ben were both in love with him as children. The boy has slept there for generations, never waking.
Until one day, he does…
As the world turns upside down, Hazel tries to remember her years pretending to be a knight. But swept up in new love, shifting loyalties, and the fresh sting of betrayal, will it be enough?
'There are a dozen soldiers hiding in that maze All hunting you. All looking to kill you.'
To the outside world Ember Hill is an ordinary girl, but Ember has a deadly secret. A dragon hiding in human form, she is destined to fight the shadowy Order of St.George, a powerful society of dragonslayers. St. George soldier Garret is determined to kill Ember and her kind. Until her bravery makes him question all he's been taught about dragons.
Now a war is coming and Garret and Ember must choose their sides – fight to save their bond or fulfil their fate and destroy one another.
If you could trade your biggest burden for someone else's, would you do it?
Five teenagers sit around a bonfire in the middle of the New Mexico desert. They don't know it yet, but they are about to make the biggest sacrifice of their lives.
Lo
has a family history of MS, and is starting to come down with all the symptoms.
Thomas
, a former child soldier from Liberia, is plagued by traumatic memories of his war-torn past.
Kaya
would do anything to feel physical pain, but a rare condition called CIP keeps her numb.
Ellen
can't remember who she was before she started doing drugs.
Kit
lost his girlfriend in a car accident and now he just can't shake his newfound fear of death.
When they trade totems as a symbol of shedding and adopting one another's sorrows, they think it's only an exercise.
But in the morning, they wake to find their burdens gone…and replaced with someone else's.
As the reality of the ritual unfolds, this unlikely group of five embarks on a week of beautiful, terrifying experiences that all culminate in one perfect truth: In the end, your soul is stronger than your burdens.
Volition by Lily Paradis - February 9th 2015
You know that feeling
in the pit of your stomach that stays with you, then tears you apart slowly at first, and all at once shreds every fiber of your being?
It's because you're contradicting the universe.
Everything lines up so perfectly that you couldn't have imagined it to work out better, but then you have to go and do everything humanly possible to ruin it because you can't stand to have it go right?
That's what I did.
I did it because there's a darkness that surrounds me, and I think I want it there.
My name is Tate McKenna, and
my soul is blacker than my heart.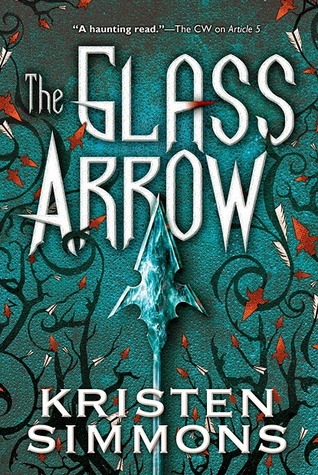 The Glass Arrow by Kristen Simmons - February 10th 2015
The Handmaid's Tale
meets
Blood Red Road
in
Glass Arrow
, the story of Aya, who lives with a small group of women on the run from the men who hunt them, men who want to auction off breeding rights to the highest bidder.
In a world where females are scarce and are hunted, then bought and sold at market for their breeding rights, 15-year old Aya has learned how to hide. With a ragtag bunch of other women and girls, she has successfully avoided capture and eked out a nomadic but free existence in the mountains. But when Aya's luck runs out and she's caught by a group of businessmen on a hunting expedition, fighting to survive takes on a whole new meaning.
The Ruby Circle by Richelle Mead - February 10th 2015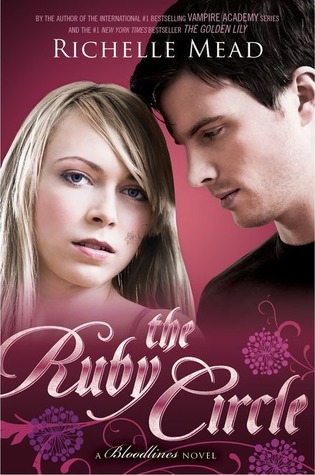 The epic conclusion to Richelle Mead's New York Times bestselling Bloodlines series is finally here...
Sydney Sage is an Alchemist, one of a group of humans who dabble in magic and serve to bridge the worlds of humans and vampires. They protect vampire secrets—and human lives.
After their secret romance is exposed, Sydney and Adrian find themselves facing the wrath of both the Alchemists and the Moroi in this electrifying conclusion to Richelle Mead's New York Times bestselling Bloodlines series. When the life of someone they both love is put on the line, Sydney risks everything to hunt down a deadly former nemesis. Meanwhile, Adrian becomes enmeshed in a puzzle that could hold the key to a shocking secret about spirit magic, a secret that could shake the entire Moroi world.
Red Queen by Victoria Aveyard - February 12th 2015
A thrilling new fantasy trilogy for fans of DIVERGENT and THE HUNGER GAMES.
This is a world divided by blood – red or silver.
The poverty-stricken Reds are commoners, living in the shadow of the Silvers, elite warriors with god-like powers.
To Mare Barrow, a 17-year-old Red girl from the Stilts, it looks like nothing will ever change.
Then Mare finds herself working at the Silver palace, in the midst of those she hates the most. She quickly discovers that, despite her red blood, she possesses a deadly power of her own. One that threatens to destroy Silver control.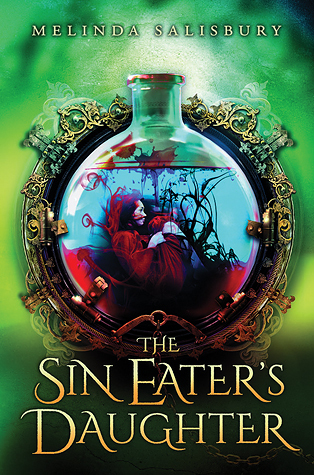 The Sin Eater's Daughter by Melinda Salisbury - Feburary 24th 2015
Seventeen-year-old Twylla lives in the castle. But although she's engaged to the prince, Twylla isn't exactly a member of the court.
She's the executioner.
As the Goddess embodied, Twylla instantly kills anyone she touches. Each month she's taken to the prison and forced to lay her hands on those accused of treason. No one will ever love a girl with murder in her veins. Even the prince, whose royal blood supposedly makes him immune to Twylla's fatal touch, avoids her company.
But then a new guard arrives, a boy whose easy smile belies his deadly swordsmanship. And unlike the others, he's able to look past Twylla's executioner robes and see the girl, not the Goddess. Yet Twylla's been promised to the prince, and knows what happens to people who cross the queen.
However, a treasonous secret is the least of Twylla's problems. The queen has a plan to destroy her enemies, a plan that requires a stomach-churning, unthinkable sacrifice. Will Twylla do what it takes to protect her kingdom? Or will she abandon her duty in favor of a doomed love?
These are the releases I am really looking forward to, even though most of these are out already but sure hey, I don't have them yet so :P Has anyone gotten these books yet or are they on your wishlists??? Let me know down below :)