Friday Reads #1 (June 3 2016)
I've just seen this so much around BookTube and blogs and have decided what the heck, let's go for it! This is just an awesome way of updating people on what you're reading.
Ok guys my reading has suffered greatly since March and I feel so bad.... I have a load of books that I just want to read now and I haven't even been able to have the time to read. Because of this I have started a lot of books where I have just gotten a small bit into but haven't yet finished which is crazy. I really need to finish all these books!
But for my Friday Reads, I'm just going to tell you about the two books that I'm currently, actively reading and those are:
Beautiful Broken Things by Sara Barnard
I'm currently on pg 96 for this book and really enjoying it so far!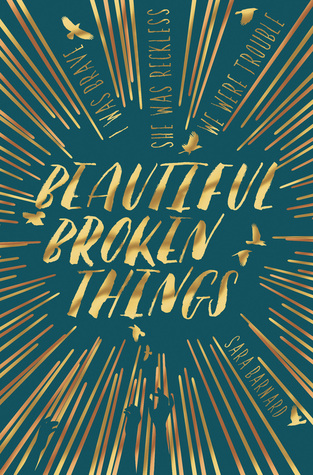 I was brave
She was reckless
We were trouble
Best friends Caddy and Rosie are inseparable. Their differences have brought them closer, but as she turns sixteen Caddy begins to wish she could be a bit more like Rosie – confident, funny and interesting. Then Suzanne comes into their lives: beautiful, damaged, exciting and mysterious, and things get a whole lot more complicated. As Suzanne's past is revealed and her present begins to unravel, Caddy begins to see how much fun a little trouble can be. But the course of both friendship and recovery is rougher than either girl realises, and Caddy is about to learn that downward spirals have a momentum of their own.
Dreams of Gods and Monsters by Laini
Again another book that I have started and yet to finish, But I'm so scared to actually finish this series because I have loved this series so much. I am on page 132 of this book and again loving it!
By way of a staggering deception, Karou has taken control of the chimaera rebellion and is intent on steering its course away from dead-end vengeance. The future rests on her, if there can even be a future for the chimaera in war-ravaged Eretz.
Common enemy, common cause.
When Jael's brutal seraph army trespasses into the human world, the unthinkable becomes essential, and Karou and Akiva must ally their enemy armies against the threat. It is a twisted version of their long-ago dream, and they begin to hope that it might forge a way forward for their people.
And, perhaps, for themselves. Toward a new way of living, and maybe even love.
But there are bigger threats than Jael in the offing. A vicious queen is hunting Akiva, and, in the skies of Eretz ... something is happening. Massive stains are spreading like bruises from horizon to horizon; the great winged stormhunters are gathering as if summoned, ceaselessly circling, and a deep sense of wrong pervades the world.
What power can bruise the sky?
From the streets of Rome to the caves of the Kirin and beyond, humans, chimaera and seraphim will fight, strive, love, and die in an epic theater that transcends good and evil, right and wrong, friend and enemy.
At the very barriers of space and time, what do gods and monsters dream of? And does anything else matter?