Wishlist Wednesday #6
Wishlist Wednesday is a weekly meme hosted over at
Pen to Paper
. This meme is where you showcase one book that is on your wishlist and that you can't wait to get off your wishlist and into your hands.
On my Wishlist Wednesday today is....



Beautiful Broken Things by Sara Barnard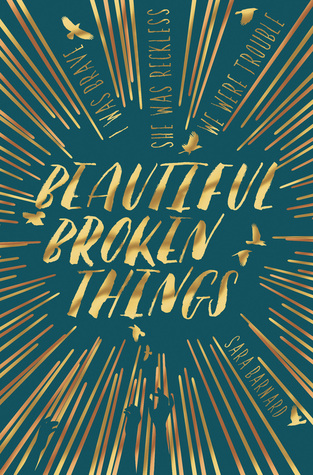 I was brave
She was reckless
We were trouble

Best friends Caddy and Rosie are inseparable. Their differences have brought them closer, but as she turns sixteen Caddy begins to wish she could be a bit more like Rosie – confident, funny and interesting. Then Suzanne comes into their lives: beautiful, damaged, exciting and mysterious, and things get a whole lot more complicated. As Suzanne's past is revealed and her present begins to unravel, Caddy begins to see how much fun a little trouble can be. But the course of both friendship and recovery is rougher than either girl realises, and Caddy is about to learn that downward spirals have a momentum of their own.
Since I've heard about this book I have just wanted to dive straight into it. I have been waiting now I think for a few months for this book to release and I just ahhhhh. I really want to read it. I love books about female friendships and this book it's just screaming that it'll be such an amazing read. I believe this book releases in the US tomorrow, don't hold me to that, it could have already been released, but I know it is already out here in Ireland. I have set a day though - March 3rd (World Book Day) - I am going book shopping with my little brother and we are going to buy some books! I haven't bought a book since the first week of January and I've been good getting my TBR pile down too so I think you can expect me to have this book on March 3rd :P
Have you read this book??
Is it on your wishlist??
What have you got on your wishlist??