Wishlist Wednesday #11
Wishlist Wednesday is hosted by Pen to Paper and it is where you talk about one book which is on your wishlist.
My Wishlist Wednesday book is...
A COURT OF THORNS AND ROSES BY SARAH J. MAAS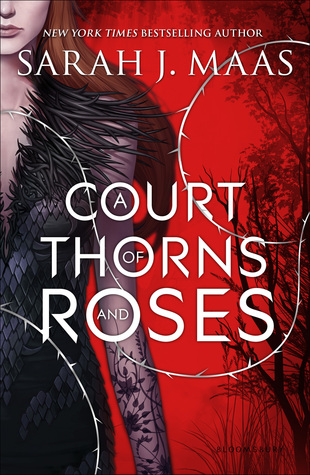 When 19-year-old huntress Feyre kills a wolf in the woods, a beast-like creature arrives to demand retribution for it. Dragged to a treacherous magical land she only knows about from legends, Feyre discovers that her captor is not an animal, but Tamlin—one of the lethal, immortal faeries who once ruled their world.
As she dwells on his estate, her feelings for Tamlin transform from icy hostility into a fiery passion that burns through every lie and warning she's been told about the beautiful, dangerous world of the Fae. But an ancient, wicked shadow over the faerie lands is growing, and Feyre must find a way to stop it ... or doom Tamlin—and his world—forever.
I added this book to my wishlist as soon as I heard about it!! Because damn it is another book by Sarah J. Maas and Sarah J. Maas is just awesome!!!
I believe I added this book before it even had a blurb on here. So when I read the blurb, I was over the moon!!! We have what seems like an awesome protagonist, a dangerous land, an even more dangerous love and then of course faeries. I love faery stories!!!
The cover for this book was just revealed recently and I have to say that I do love it. It has an edge that many covers don't have. I also like what they did with the title having the A, OF and And placed in the O's, it makes it a hell of a lot unique in the cover world. The colour itself is striking and all I can say is that this cover screams danger and that I'm attracted to it. Hopefully, this is the cover for the UK too.....
As for Sarah J. Maas herself, I have recently just read her book Throne of Glass and I still have to write the review for it. I was speechless after finishing that book, hence the long wait for the review. I have her The Assassin's Blade sitting on my shelf, waiting to be read next and I am hoping to get Crown of Midnight for Christmas. I'm collecting the USA Bloomsbury editions in paperback and Heir of Fire has not yet been released by them so I'm patiently waiting, even if I'm behind the hype...
I cannot wait for this book!!! Please, please, please I need it :P
P.S The expected publication date is May 5th 2015!!!