2015 Releases I Can't Wait For!!! March Edition
I know this post is extremely late because we're like on the 9th day of March already but.... ya I wanted to do it anyhow so some of these books have already been released. I haven't got any of them yet but these are still my most anticipated March Releases of 2015.
The Memory Key by Liana Liu - March 3rd 2015
In a five-minutes-into-the-future world, a bereaved daughter must choose between losing memories of her mother to the haze of time and the reality-distorting, visceral pain of complete, perfect recall.
Lora Mint is determined not to forget.
Though her mother's been dead for five years, Lora struggles to remember every detail about her—most importantly, the specific events that occurred the night she sped off in her car, never to return.
But in a world ravaged by Vergets disease, a viral form of Alzheimer's, that isn't easy. Usually Lora is aided by her memory key, a standard-issue chip embedded in her brain that preserves memories just the way a human brain would. Then a minor accident damages Lora's key, and her memories go haywire. Suddenly Lora remembers a moment from the night of her mother's disappearance that indicates her death was no accident. Can she trust these formerly forgotten memories? Or is her ability to remember every painful part of her past driving her slowly mad—burying the truth forever?
Lora's longing for her lost mother and journey to patch up her broken memories is filled with authentic and poignant emotion. Her race to uncover the truth is a twisty ride. In the end, Liana Liu's story will spark topical conversations about memory and privacy in a world that
is reliant on increasingly invasive forms of technology.

Bone Gap by Laura Ruby - March 3rd 2015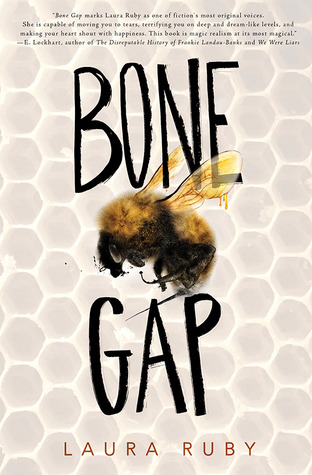 Everyone knows Bone Gap is full of gaps—gaps to trip you up, gaps to slide through so you can disappear forever. So when young, beautiful Roza went missing, the people of Bone Gap weren't surprised. After all, it wasn't the first time that someone had slipped away and left Finn and Sean O'Sullivan on their own. Just a few years before, their mother had high-tailed it to Oregon for a brand new guy, a brand new life. That's just how things go, the people said. Who are you going to blame?
Finn knows that's not what happened with Roza. He knows she was kidnapped, ripped from the cornfields by a dangerous man whose face he cannot remember. But the searches turned up nothing, and no one believes him anymore. Not even Sean, who has more reason to find Roza than anyone, and every reason to blame Finn for letting her go.
As we follow the stories of Finn, Roza, and the people of Bone Gap—their melancholy pasts, their terrifying presents, their uncertain futures—acclaimed author Laura Ruby weaves a heartbreaking tale of love and loss, magic and mystery, regret and forgiveness—a story about how the face the world sees is never the sum of who we are.
The Alex Crow by Andrew Smith - March 3rd 2015
Once again blending multiple story strands that transcend time and place, Grasshopper Jungle author Andrew Smith tells the story of 15-year-old Ariel, a refugee from the Middle East who is the sole survivor of an attack on his small village. Now living with an adoptive family in Sunday, West Virginia, Ariel's story of his summer at a boys' camp for tech detox is juxtaposed against those of a schizophrenic bomber and the diaries of a failed arctic expedition from the late nineteenth century. Oh, and there's also a depressed bionic reincarnated crow.
The Infinite by Lori M. Lee - March 10th 2015
Once again I won't put up the synopsis for this because of the fact that it is a sequel and some of you may have not read the first book :) I have read the first book, really enjoyed it and this one is waiting on my shelves to be read. Mwahahahahaha.
The Winner's Crime by Marie Rutkoski - March 12th 2015
I'm not going to post up this synopsis because well I haven't read the first book and there may well be spoilers so I don't want to read it and I don't want to know :P
It's on this list here because The Winner's Curse is on my wishlist and until I read that book, this book is also on my wishlist :)
A Conspiracy of Princes by Justin Somper - March 19th 2015
Another sequel here!!! Which means I won't post up the synopsis. I have the first book of this series in my TBR and I really can't wait to read it so therefore this book is on my wishlist.
The Walls Around Us by Nova Ren Suma - March 24th 2015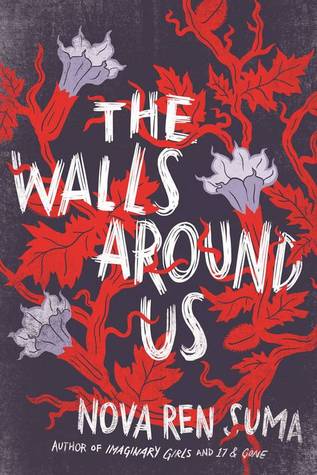 "Ori's dead because of what happened out behind the theater, in the tunnel made out of trees. She's dead because she got sent to that place upstate, locked up with those monsters. And she got sent there because of me."
The Walls Around Us is a ghostly story of suspense told in two voices—one still living and one long dead. On the outside, there's Violet, an eighteen-year-old dancer days away from the life of her dreams when something threatens to expose the shocking truth of her achievement. On the inside, within the walls of a girls' juvenile detention center, there's Amber, locked up for so long she can't imagine freedom. Tying these two worlds together is Orianna, who holds the key to unlocking all the girls' darkest mysteries.
We hear Amber's story and Violet's, and through them Orianna's, first from one angle, then from another, until gradually we begin to get the whole picture—which is not necessarily the one that either Amber or Violet wants us to see.
Nova Ren Suma tells a supernatural tale of guilt and innocence, and what happens when one is mistaken for the other.