Best of the Bunch #4 - September 2015
Best of the Bunch is a monthly meme hosted over at
A Cocoon of Books
. What it is is that you give the Best of the Bunch award to one book which you have read in that month.
I only read 4 book this month *cue sadness* and only 1 of these books got a 5 star rating, so it is a no-brainer this month!
And the book is ......
Trouble Is A Friend Of Mine by Stephanie Tromly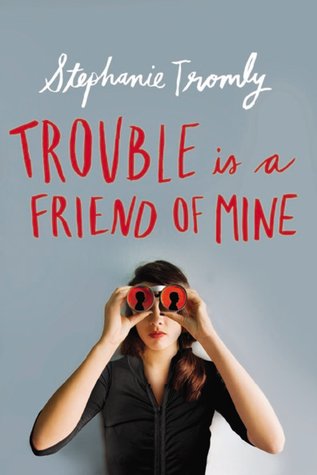 Of course I didn't like Digby when I first met him. No one does.
The first time Philip Digby shows up on Zoe Webster's doorstep, he's rude and he treats her like a book he's already read and knows the ending to.
But before she knows it, Zoe's allowed Digby—annoying, brilliant, and somehow…attractive? Digby—to drag her into a series of hilarious, dangerous, and only vaguely legal schemes all related to the kidnapping of a local teenage girl. A kidnapping that might be connected to the tragic disappearance of his little sister eight years ago. When it comes to Digby, Zoe just can't say no.
But is Digby a hero? Or is his manic quest an indication of a desperate attempt to repair his broken family and exorcize his own obsessive-compulsive tendencies? And does she really care anyway?
This was a really surprising book for me. I actually thought before I started that I was just going to be meh about this but, but.... I loved this!! It was just so quirky and fun, that I couldn't help not loving it. Digby was just one of those love at first sight characters and Zoe was also a very connectable character for me too. I just loved this, that's all I can say. This is basically like my guilty pleasure reads just like The Selection series.
What was your Best of The Bunch for the month of September?? :)