Wishlist Wednesday #9
Wishlist Wednesday is a weekly meme hosted over at
Pen to Paper
. This meme is where you showcase one book that is on your wishlist and that you can't wait to get off your wishlist and into your hands.
On my Wishlist Wednesday today is....


Crank by Ellen Hopkins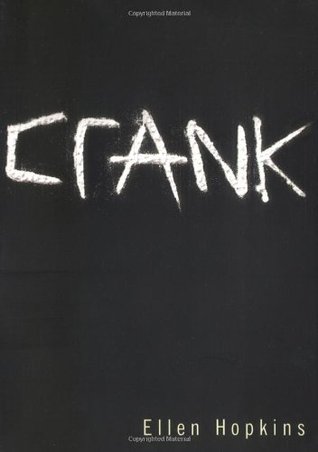 In
Crank
, Ellen Hopkins chronicles the turbulent and often disturbing relationship between Kristina, a character based on her own daughter, and the "monster," the highly addictive drug crystal meth, or "crank." Kristina is introduced to the drug while visiting her largely absent and ne'er-do-well father. While under the influence of the monster, Kristina discovers her sexy alter-ego, Bree: "there is no perfect daughter, / no gifted high school junior, / no Kristina Georgia Snow. / There is only Bree." Bree will do all the things good girl Kristina won't, including attracting the attention of dangerous boys who can provide her with a steady flow of crank.
After now reading a book in verse and loving it, I am now not daunted by that style of writing and well everyone always raves about Ellen Hopkins so now I have added her book 'Crank' onto my wishlist. This book seems like such a dark book, that I am just so intrigued to know what happens in the book that it was an instant add to my wishlist after seeing this. I know this book has been out for many years now, but it is just now that I added it onto my wishlist therefore that is why I am featuring it here.
Have you read this book??
Is it on your wishlist??
What have you got on your wishlist??