Wishlist Wednesday #10
Wishlist Wednesday is hosted by Pen to Paper and it is where you talk about one book which is on your wishlist.
My Wishlist Wednesday book is...
THE GLASS ARROW BY KRISTEN SIMMONS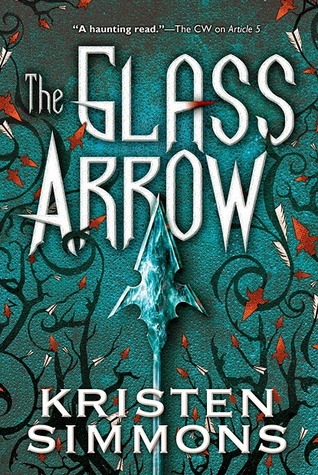 The Handmaid's Tale
meets
Blood Red Road
in
Glass Arrow
, the story of Aya, who lives with a small group of women on the run from the men who hunt them, men who want to auction off breeding rights to the highest bidder.
In a world where females are scarce and are hunted, then bought and sold at market for their breeding rights, 15-year old Aya has learned how to hide. With a ragtag bunch of other women and girls, she has successfully avoided capture and eked out a nomadic but free existence in the mountains. But when Aya's luck runs out and she's caught by a group of businessmen on a hunting expedition, fighting to survive takes on a whole new meaning.
I added this book to my wishlist on August 15 2014 after seeing pictures of copies of this book on Twitter. It was either a bookworm's, publishers or the authors account, I cannot remember.
Anyway I added this book because I said that cover is so amazing and I had to have it in my collection of pretty book covers. So I added it to my list ever before I read the blurb. I actually have added a lot of books lately without looking at their blurbs. Let's just call them my sweet dive in blind book pile.
So then yes, I read the blurb and it really interests me. It's like a dystopian. And I am going to assume that there will be plenty of strong women in this book even if the existence of women is scarce.
The cover talk!! As I already said I added this book solely on the cover and what a cover it is!! It's unique in a way. I haven't seen anything mildly like this yet and I just look the arrow and the arrow vines that lace the back. The colours on the cover are extremely suited to each other too. Ok, enough of the art, cover blabber....
I haven't read any other Kristen Simmons books before. She has a different series out called Article 5. Which I'm going to assume is another type of dystopian. But anyhoo, she has those books out and I haven't read them and haven't really heard about them either. But I still want to read this new book and hopefully the books to follow in the series.
Are any of you guys waiting for this book?? (FYI: Release Date is February 10th 2015) Or have any of you guys read Article 5??