Wishlist Wednesday #9
Wishlist Wednesday is hosted by Pen to Paper and it is where you talk about one book which is on your wishlist.
My Wishlist Wednesday book is...
THE INFINITE SEA BY RICK YANCEY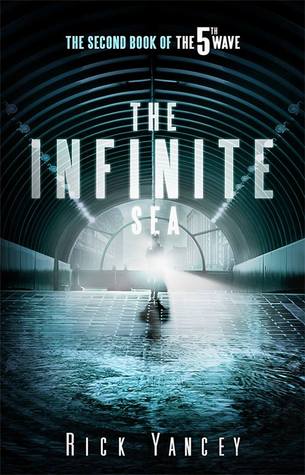 How do you rid the Earth of seven billion humans? Rid the humans of their humanity.
Surviving the first four waves was nearly impossible. Now Cassie Sullivan finds herself in a new world, a world in which the fundamental trust that binds us together is gone. As the 5th Wave rolls across the landscape, Cassie, Ben, and Ringer are forced to confront the Others' ultimate goal: the extermination of the human race.
Cassie and her friends haven't seen the depths to which the Others will sink, nor have the Others seen the heights to which humanity will rise, in the ultimate battle between life and death, hope and despair, love and hate.
I added this book to my wishlist as soon as I finished The 5th Wave.
Because The 5th Wave was simply an amazing book and I just needed to read the sequel as soon as possible. Of course the sequel isn't out till September so I have to wait.
It's the whole alien concept that interests me so much. I have never read an alien book before I read The 5th Wave and I just have to say that that is going to be hard to beat, in the alien genre.
I really like this cover!! It not only goes perfect with the title but it also matches the first book's cover greatly and THAT is very important. Covers in a series have to match!! Don't get me started on when they change the covers mid-series!!
Look at that blurb. It's intriguing without giving a lot away. Very mysterious, it is. Anyway I don't care, I just can't wait for this book!!!
Of course I've read a book from Rick Yancey (The 5th Wave) and I really enjoyed his writing style. It was something that kept me hooked from the very beginning. I also found out about another earlier series of his called 'The Monstrumologist' which I may have to look into.
Have any of you guys read The 5th Wave? Are any of you counting down the days to The Infinite Sea???