On My Shelves #4
These are books which are on my shelves at home but which I haven't got around to reading yet :(
This week's book is.....
FEED BY MIRA GRANT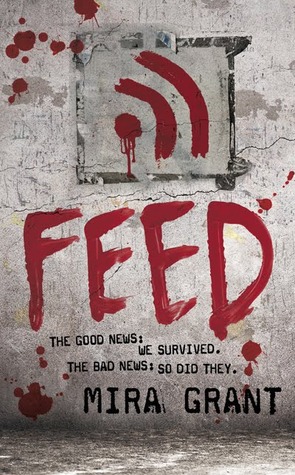 The year was 2014. We had cured cancer. We had beaten the common cold. But in doing so we created something new, something terrible that no one could stop.
The infection spread, virus blocks taking over bodies and minds with one, unstoppable command:
FEED
. Now, twenty years after the Rising, bloggers Georgia and Shaun Mason are on the trail of the biggest story of their lives - the dark conspiracy behind the infected.
The truth will get out, even if it kills them.
I bought Feed as a boxset sometime last year because I was intrigued by the idea of the story and I was also going through a whole zombie loving phase. Don't get me wrong I still love zombie novels, there is nothing better than a gruesome zombie horror. So anyway, I bought the boxset and have yet to get around to reading it!!
Hopefully as it is set in the year 2014, I will read it in 2014. And I'll let ya'll know what I think of it!!
Have any of you guys read this already, or if you haven't, drop a comment and let me know what you're thinking :)