Wishlist Wednesday #4
Wishlist Wednesday is hosted by Pen to Paper and it is where you talk about one book which is on your wishlist.
My Wishlist Wednesday book is...
A GAME OF THRONES BY GEORGE R.R. MARTIN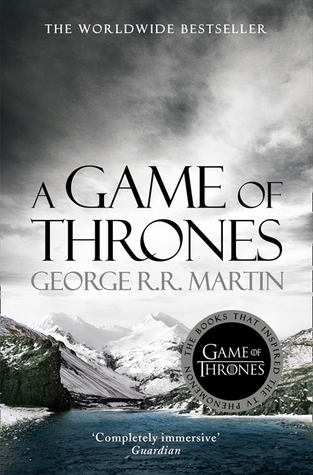 Summers span decades. Winter can last a lifetime. And the struggle for the Iron Throne has begun. As Warden of the north, Lord Eddard Stark counts it a curse when King Robert bestows on him the office of the Hand. His honour weighs him down at court where a true man does what he will, not what he must ... and a dead enemy is a thing of beauty. The old gods have no power in the south, Stark's family is split and there is treachery at court. Worse, the vengeance-mad heir of the deposed Dragon King has grown to maturity in exile in the Free Cities. He claims the Iron Throne.
A Game of Thrones is the newest addition to my wishlist. That doesn't mean I haven't heard about it... Of course I have, there's a tv show (which I haven't watched, but have heard tremendous good reviews about). I was contemplating for a long time about this series and whether to read it or not and then I decided that I will read it.
After I made this decision though, a raging battle ensued. Over the covers. I was stuck between the landscape covers and the other symbol covers. After seeing the symbol covers in the shop I said perhaps I would go for them but yesterday I saw the landscape cover in person and it is beautiful. The picture does not do it justice. So my heart is won and I am loving the landscape covers of 'A Game of Thrones'
The main answer to why I added this book to my wishlist is (don't hate me for this) the hype. These book as well as the tv series has been hyped up to perfection and for once (because I usually don't follow hypes) I decided to talk the dive and add this to my wishlist.
But, the hype is not everything, these books appeal to me as well. God, look at the covers!! I already made my rant above, so I'm skipping this topic. The genre is something I can't look over. I am a fantasy freak!! and I hope that this will live up to my fantasy freak expectations. This is also an adult novel!! I have never read an adult novel yet, YA is my area, so this holds appeal in that way too.
About the blurb, it doesn't really give away much, does it? There's battles and betrayals and a dangerous landscape. But that's all I can tell, so hmmm, I can't wait to see what this book holds and the story it leads.
As for the author - George R.R. Martin - I have never read any of his work before, but there is one quote that I love from him, which I believe in from this series of books.
"A reader lives a thousand lives before he dies, said Johen. The man who never reads lives only one."
So there is my Wishlist Wednesday number 4, what do you all think of my choice?