Wishlist Wednesday #2
Wishlist Wednesday is a weekly meme hosted over at
Pen to Paper
. This meme is where you showcase one book that is on your wishlist and that you can't wait to get off your wishlist and into your hands.
On my Wishlist Wednesday today is....


The Dark Days Club by Alison Goodman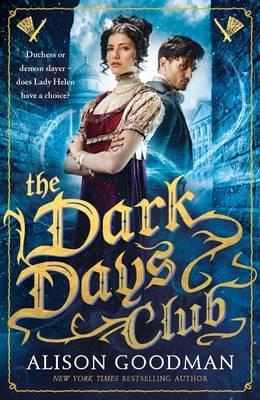 London, April 1812. Eighteen-year-old Lady Helen Wrexhall is on the eve of her debut presentation to the Queen. Her life should be about gowns and dancing, and securing a suitable marriage. Instead, when one of her family's housemaids goes missing, Lady Helen is drawn to the shadows of Regency London.
There, she finds William, the Earl of Carlston. He has noticed the disappearance, too, and is one of the few who can stop the perpetrators: a cabal of powerful demons that has infiltrated every level of society. But Lady Helen's curiosity is the last thing Carlston wants—especially when he sees the searching intelligence behind her fluttering fan. Should Helen trust a man whose reputation is almost as black as his lingering eyes? And will her headstrong sense of justice lead them both into a death trap?
I first saw this book as an arc at an event I was at. The arc cover intrigued me so I looked further into this book and that is where I got hesitant.... I wasn't sure whether I was going to add this book to my wishlist or not and I spent days thinking about it. Should it go on my wishlist, should it not? And then I finally came round and caved and said yes, yes it should. Was I the only one to think this was like The Infernal Devices by hearing about its premise alone? It was my love for that trilogy that actually got me to add it to my wishlist as well as that our main character is eighteen and it's set in London and it is back in the past. This book basically has everything I love in it so I'm hoping to god that I love this book to. This book deosn't come out till next week on January 21 2016!
Have you read this book??
Is it on your wishlist??
What have you got on your wishlist??